The past two or three years have seen the rise of a movement that has gotten impossible to ignore.
I am talking about the rise of Chinese companies in the bicycle industry.
If reviewers and YouTube punters are to be believed, Chinese-made cycling products have matured – in varying degrees – and they now offer a compelling option for today's cyclist possessing more enthusiasm than cash.
Nowhere is this more obvious than with carbon wheelsets and rims. For years, Farsports was a budget rim option for people keen on building up their own custom wheels, with a price point low enough to offset any perceptions of dubious quality or other such product-related risk. That seems to have paid off, and now we have quite a few players in the field, including Winspace.
This segues nicely into carbon bike frames, both for road and gravel. While Yeoleo and Hongfu/Dengfu have been quietly making their own framesets, Winspace is arguably the company that's made the biggest splash, notably with the T1500 for the road and the G2 for gravel. It's largely the same formula employed here, too: premium carbon frames for the price of a built-up aluminum bike from an established manufacturer.
The final prong in this onslaught into the bicycle industry is with groupsets. With SRAM, Shimano, and Campagnolo now committing into the premium space at the expense of the average Joe, as evidenced by the ridiculous price jump of Shimano 105 Di2 R7100, Chinese firms have dived into the market vacuum the big three left behind – with surprisingly quick development pace. It wasn't very long ago at all that a Chinese-made LTWOO drivetrain was obviously just a cheap knock-off of the real thing. Nowadays, though, they've taken the fight to the big boys, first with hydraulic braking, and now with electronic shifting capabilities of their own – product patents be damned, I imagine.
So, where exactly do I stand in all of this? Should I not be celebrating this development, because it upsets the established pecking order, improves competition, and enables the poor cycling enthusiast another way of indulging his/her enthusiasm?
As I said, I am biased. In particular, I am quite heavily biased against Chinese products.
Why?
I live in the Philippines. That's no secret. What also isn't a secret – but perhaps is less known to any international audience reading this blog – is how China has openly antagonized and bullied my country several times since 2016. This is chiefly done by its insistence on an absurd "nine-dash line" marking its territory within the South China Sea which makes a mockery of the territorial claims of at least five other nation-states.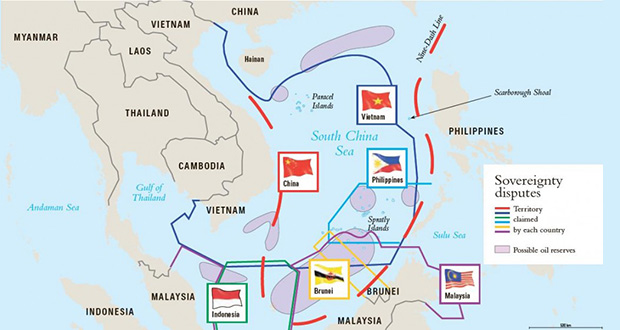 It is very tempting to give in to the allure of cheap Chinese cycling componentry. Honestly, I am impressed how far they've gotten in a very short span of time. I remain biased against them, however, because I believe any purchase of a Winspace frame or LTWOO drivetrain goes almost directly into the Chinese military's efforts of intimidating and bullying much more helpless nations like my own – seeing as no company in China is truly private and the Chinese Communist Party always has a say whether your company lives or dies. As such, buying Chinese is akin to me buying a gun and shooting myself in the foot with it.
Perhaps this is a futile effort, since China has successfully positioned itself as the world's leading manufacturer of anything and everything under the sun. If I buy anything else that isn't expressly meant for cycling use, chances are it came from China, too. At least for cycling and motoring, however, I will stand by this principle.
How sustainable this is, I don't know. It certainly isn't looking very good. With Shimano's consolidation of its lower-tier groupsets into one monolith called "CUES," its seeming abandonment of competition mechanical groupsets, and cycling industry titan Taiwan's (understandable) desire to steadily push for higher wages, China is poised to win any race to the bottom.
I can't control how other folks spend their cash, but I can control how I spend my own. So yeah, I'm biased. If this means losing my audience, then I am sorry to see you go.