My initial dalliance into gumwall/skinwall tires didn't quite go as smoothly as expected. I had bet on Clement tires (now known as Donnelly Cycling, after Pirelli's loan of the Clement Pneumatici name ran out), which were well-reviewed, and I was curious to see how well 32 mm rubber would fit my kind of riding. For some reason or other, the experience didn't impress.
This time might be different.
A friend of mine was in Japan a few months ago, and one of the stops on his itinerary was Blue Lug. This seems like a boutique bike shop of sorts, carrying parts that are highly sought after by both fixed-gear enthusiasts and serious long-distance cyclists.
My eye was drawn to these unusually colored tires. They're branded "Fairweather," Blue Lug's house brand, and the actual production is carried out by that darling of custom tire manufacturers, Panaracer. While the Japanese firm sells its own line of tires, some of you may know them as the guys behind high-end rubber from Soma (e.g. the Cazadero gravel tire), Bruce Gordon (e.g. the legendary Rock n' Road mixed-surface tire), and Compass Tires.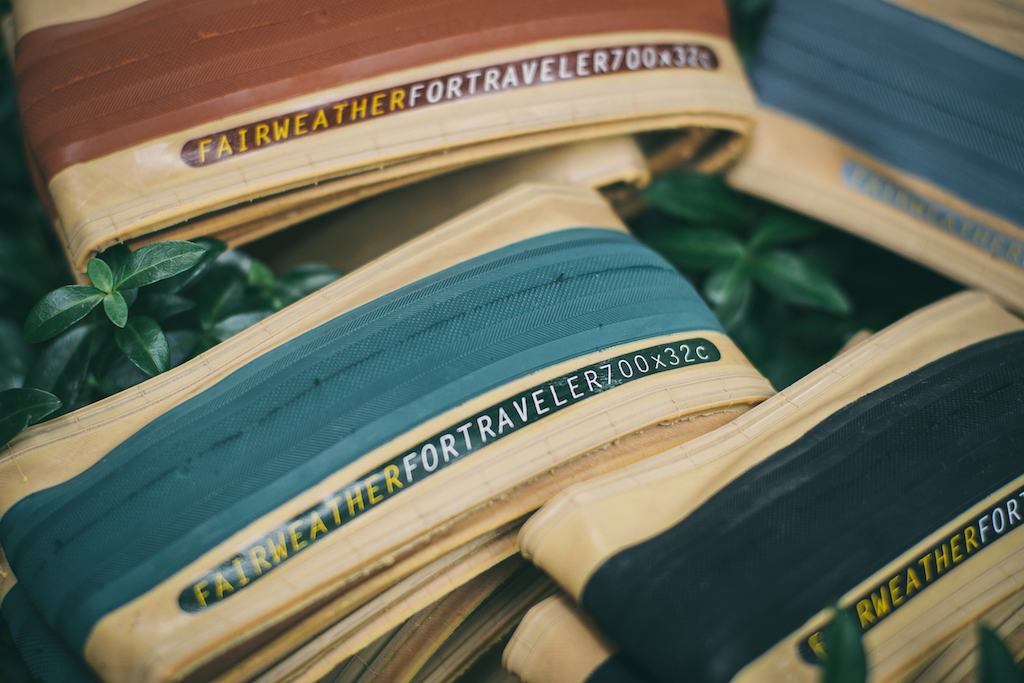 These in particular are the "For Traveller" model at 700C x 28 mm. Aside from this rust colored tread, they're offered in black, "algae" blue, and a gray hue called "asphalt." Fancy colors aside, the tread also features two rows of herringbone pattern siping and a central file section. Blue Lug also offers a 32 mm version.
Mounting them was a bit of a struggle, though nothing out of the ordinary if you come from Continental's folding-bead clincher tires. Like those, the beads here are ridiculously tight when new, necessitating sturdy tire levers or a tire bead jack on initial fitment to get that last part of stubborn bead over the rim.
Initial impressions after a 94-kilometer ride are quite good. Running them at 80 psi at the rear and 70 psi up front, the ride feel over concrete roads is a bit firmer than before; the jury's still out on whether cutting down pressure will help increase suppleness. One advantage they do have over my Continentals is they aren't as easily fazed by dusty surfaces, most likely due to the herringbone and file pattern cut into the tread. Unlike the old Clements, these don't seem to have any problems with wet roads, and, touch wood, no punctures yet.
Given how well received Panaracer tires are, I think I'm in good hands with these. I'll see how well I get along with them.